AMATEK MEDICAL PRODUCTS® offer the medical community solutions for their instrumentation requirements. Our product line include German Quality, Floor Grade, and Economy Grade. We offer a broad range of commonly used instruments for General Practice in addition to instruments used in specialty areas. If you don't see what you need do not hesitate to call us!
Mosquito Forceps
Economy Grade
#103031 5" Straight
#103033 5" Curved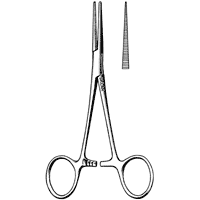 Forerster Sponge Forceps
Stainless Steele
#070604 7" Straight Serrated Jaw
#070600 10" Straight Serrated Jaw
Laminaria Inserter
031201 Medgyn Inserter
031202 McMahon Inserter
Baby Tischler Biopsy Punch
Heavy Grip Handles
030177 Blue Titanium 10"
030129 Blue Titanium 8.5"
Pean Histerestomy Forcep
Curved
Item #031000

Utility Scissors
Assorted Colors
1080 Series 7.5" Long
1070 Series 5.5" Long
Lister Bandage Scissors
Large Ring
101011 Floor Grade 7.25 inch
Tischler Biopsy Forcep GQ
290208 3mm x 7mm Jaw 8 inch Spring Handle
Baby Tischler Biopsy Forcep GQ
290308 2mm x 4mm Jaw 8 inch Spring Handle

Braun Tenaculum Stainless Steele
330325 10 inch
Adson Forceps
060130 1x2, 2.0mm tip 4.75 in
060117 1.3mm, Serrated 4.75 inch