The CDC mandates the use of protective equipment for all healthcare workers. Providing the front line in basic protection the ACS Face Shield System offers the clinician a comfortable, convenient, and cost effective barrier against exposure to body fluids.
TRAUMA < ORTHOPEDICS < PATHOLOGY GENERAL SURGERY < OB/GYN
DENTAL OFFICES < EMERGENCY ROOM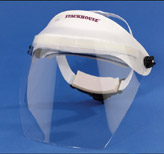 MAXIMUM PROTECTION FOR HEALTHCARE PROFESSIONALS
Protection against accidental exposure to body fluids. Protects eyes, nose and oral cavity.
ULTRA LIGHTWEIGHT FOR COMFORT
Durable plastic design, Shields in 2 sizes.
FULLY ADJUSTABLE
Head frame adjustable to fit most head sizes. Shield conveniently tilts up providing flexibility during use.
OPTICALLY CLEAR SHIELDS: Sterile/Disposable
Clear polycarbonate shield. Protects the entire face. Cool and comfortable. No distortion of peripheral vision. Shieldl attaches by Velcro to head frame in seconds.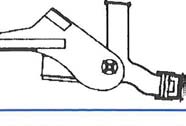 ACS Headgear Frame
Headband circumference up to 25" (no shield)
ACS Headgear Frame
Headband circumference up to 26" (no shield)
Face Shield ONLY, Non - Sterile
3/4 Length (4.5" x 13.5") (11.43cm x 34.29cm)
Face Shield ONLY, STERILE
3/4 Length (4.5 x 13.5") (11.43cm x 34.29cm)
Face Shield ONLY, Non - Sterile
Regular Length (7.5" x 13.4") (19.05cm x 34.04cm)
Face Shield ONLY, STERILE
Regular Length (7.5 x 13.4") (19.05cm x 34.04cm)