BIOBANS EYEWEAR - Protective glasss for use in situations which may involve splashing ot spraying.
Biobans have the wides variety of colors on the market - available in ten different stylish colored frames.
The lenses are easily replaced as needed.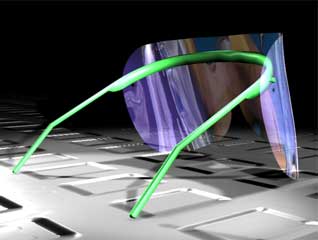 Comfort:
Biobans are the only adjustable eye shields on the market allowing people of all different shapes and sizes to have full protection. The eyeshields can easily be worn over eyeglasses and surgical masks. Biobans are stylish, lightweight, and comfortable.
Cost Effective:
Biobans are an affortdable and economical solution to your protective goggle needs. Biobans come in a variety of boxes enabling customers to save costs with increased volume.
Safety:
Biobans are useful in situations which may involve splashing or spraying of potentially infectious fluids. These protective glasses will provide both front and lateral coverage. Our opotical grade plastic prevents glare, fog, static, and allows for distortion free viewing. The snug fit of the frame provides maximum splash protection from the sides, above, and below.
Functional Benefits:
Lightweight for added comfort
Easy to Assemble
Only adjustable eyewear on the market
Easily worn over prescritiption glasses
Anti-fogging
Anti-glare
Anti-static
Distortion-free optical grade plastic
Large coverage area for full protection
10 colors
Latex-free
Recyclable
Made in the U.S.A.
Ideal for
Cardiac Cath Labs
Endoscopy
Special Procedures
Labor & Delivery
Dental